Last updated on October 29th, 2021 at 11:00 pm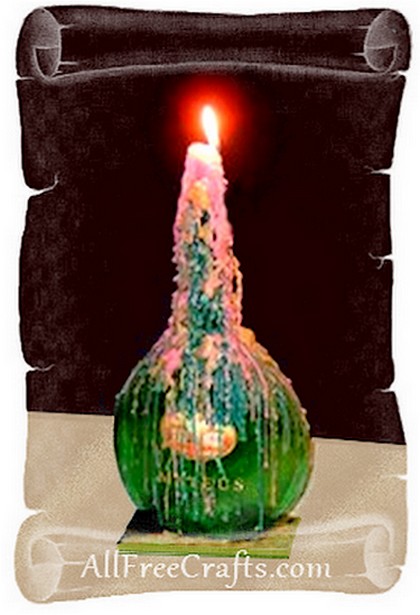 Wine Bottle Drip Candle Holders
by Jane Lake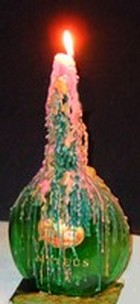 Here's a candle craft that I remember from the 1970's, when wine bottles were the candle holders of choice at many parties and coffee houses. Perhaps this mod trend for wine bottle drip candle holders came from candlelit French cafes, where each table was topped by a checkered tablecloth and lit by a tapered candle dripping colored wax over green bottle glass.

I suspect that people have been sticking candles into empty bottles for centuries, not decades yet, at its simplest, that is really all you do. However, because the colorful build up of dripping wax is so much a part of this craft, it also makes a natural memory candle.
Each color dripping down the bottle represents the special occasion when you lit that particular colored candle.
Here's how to make your own wine bottle drip candle holders to record your own special occasions with each new layer of colored wax.
AllFreeCrafts is reader supported! Many craft supplies are readily available at local dollar or thrift stores. Try there first! However, if you purchase from an affiliate link on this site, I earn a small commission at no extra cost to you which keeps this site up and running. Thank you!
Craft Supplies:
clean, empty wine bottle
tapered drip candles (or cheap candles that drip)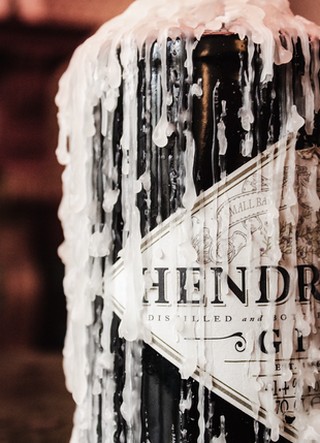 Choosing the Wine Bottle:
Since this wine bottle candle holder is going to be around for a while, you'll want to choose the right base.
Your choice might be sentimental, in which case you'll use an empty bottle that already represents a romantic evening or other special occasion to you. Perhaps you sipped wine from this bottle on the night that your fiance proposed to you, or maybe you toasted your wedding or your silver anniversary with it. If the bottle is special to you for some reason, good enough!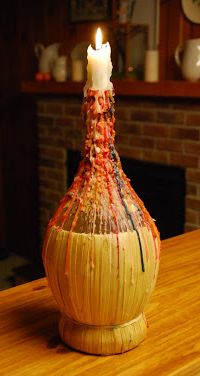 The green Mateus bottle illustrated in our project photo (shown at the top of the page) was picked because of its nice shape and wide shoulders to better support a build up of wax.
You may prefer to pick a decorative bottle – a wine bottle with a pleasing shape, a pleasant color, or perhaps with a woven straw bottom like the Chianti bottle candle shown at left.
Both the Mateus and Chianti bottles were very common candle holders in the groovy 70's, a trip back in time comically recalled by Cheri Dietzman of The Cottage blog.
Choosing the Candles
Until recently, I didn't know that special drip candles were available, specifically for dripping wax down a bottle. Who would have thunk it?
However, I have tried them, and they do what they purport to do, which is drip layers of brightly colored wax down the glass of your wine bottle holder.
The brand I used came from a thrift store, but others are available online as Multi-colored Drip Candles Approx 9.5 Inches Long (2 Candles), or as Amazing Colorful Drip Candles~ Variety 40 Pack, shown at right, which would be enough, I think, for about eight wine bottles. Unfortunately, I couldn't find a mid-range pack of about five candles, which would be great to begin this project.
There's no need, though, to start with specially designed drip candles. This craft project is ideal for using up colored tapered candles that drip too much on other candle holders. Or you could, like me, check out the tapered candles in your local thrift store; many candles are given away precisely because others in the pack dripped too much. That works fine and dandy in this case!
Fitting Candles to the Bottle
If your tapered candle is too chunky to fit the neck of your bottle, pare it down with a vegetable knife until it will fit snugly.
As wax builds up around the neck, it may be easier to add additional candles by melting a little wax at the top and sticking the base of the new candle firmly in place.
Displaying a Wine Bottle Drip Candle Holder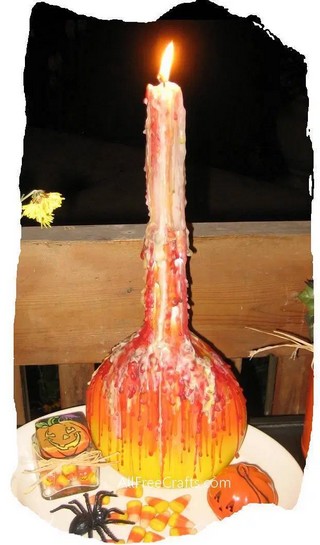 Obviously, if you're setting out to use candles that drip hot wax, you need to be prepared when – well, when they drip hot wax!
This means setting the wine bottle candle holder on a non-flammable surface. Preferably find a secure, flat surface that can easily be cleaned if melted wax drips onto it.
Set your wine bottle on a pretty plate, or some other flat, non-flammable surface, for easy cleanup and safety.
For a seasonal variation, for either fall or Halloween, see: Candy Corn Bottle Candle Holders.
CAUTION:
NEVER leave a lit candle unattended. Keep all lit candles out of the reach of children and roaming pets. Lit candles and melting wax are a fire hazard. We are not responsible for accidents or injury that occur if you reproduce this craft and hurt yourself or someone else. Please be careful and only light a candle when you are absolutely sure it is safe to do so.