Last updated on March 1st, 2017 at 11:48 pm
Decoupage pillar candles for St. Patrick's Day
by Jane Lake
Decorating pillar candles for St. Patrick's Day is easy to do when you use paper napkins to provide the decoupaged motifs.
You Will Need: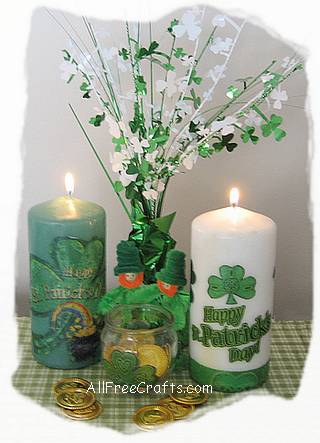 Pin
pillar candles (white or green)
mod podge
paper napkins printed with St. Patrick's Day motifs
small, sharp, pointed scissors
foam paint brush
Project Instructions:
Carefully cut out the desired motifs from paper napkins. If you want a border to go around the bottom of a candle, cut it from one side of the paper napkin then do a test fitting and cut the length to suit.
If you're cutting out words, such as "Happy St. Patrick's Day" it is easier to cut around each complete word, or the complete phrase, rather than cutting individual letters.
Once you have all the pieces cut out, you need to carefully separate the paper layers. You will be gluing down only the printed top layer, so discard the remaining back pieces.
Use the foam brush to apply mod podge to the first area of the candle that you wish to decoupage. A thin layer is sufficient.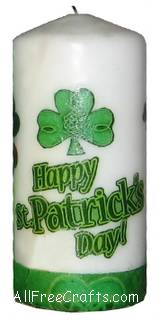 PinPick up the first motif with your fingertips, holding it firmly on one edge. Bring it toward the mod podged area of the candle, holding it in the position that you wish it to have when it is glued down. Allow a small part of the paper to touch one small spot of the candle and double-check the position. If it is not quite right, you can pull the piece away and try again. Once the glue is holding the piece where you want it, gently begin smoothing it down with your fingertips or the end of the foam brush, working away from the secured spot toward the edge of the paper.
Don't worry about minor wrinkles. Most of them will flatten out as the mod podge dries and won't detract from the overall effect.
Once all the decoupaged pieces are in place, apply another layer of mod podge over the top of each piece. If desired, you can use a damp cloth to wipe away any excess mod podge on the candle, but avoid touching the paper pieces.
Let the decoupaged St. Patrick's Day candle dry completely before lighting.
[xyz-ihs snippet="AFCembed"]
Use Caution When Using Candles:
Never leave a lighted candle unattended. Only apply decoupage to pillar candles wide enough to burn down the middle, so there is no danger of the paper napkins catching fire. Do not place a lighted candle near flammable objects, pets or children.