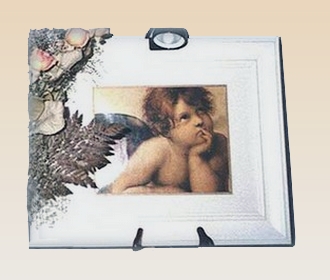 Pin
Recycled Calendar Prints
Don't throw away those calendars with fine art pictures or photographs; recycle your favourite prints into a framed piece of wall art for your home or office.
Supplies:
Calendar
Picture Frame
Paint
Gold paint pen
Fine Sandpaper
Varnish or Paste Wax
Glue
Project Instructions:
Sand the picture frame and remove any dust. Paint the frame to completely cover old finish. Let dry.
Varnish the painted frame or, as I prefer, apply two coats of paste wax, buffing each coat to a rich sheen. Paste wax gives a wonderful sheen and won't create the distracting glare that you get from some varnishes (taking away from your fabulous picture).
If your frame has a tired old matt, paint it too (acrylic artist paint works fine for this).
I've added a gold trim on the inside of the matt with a gold paint pen. On a piece of heavy cardboard, attach the calendar picture by placing a tiny dab of glue in each corner. Let glue dry, then assemble the picture in the frame and you have a work of art.
Copyright © 1999-2014 Susan Spatone All rights reserved.
Published with permission from CraftAtHome.com