Last updated on October 12th, 2015 at 11:43 am
Free Birdhouse Plan:  How to Build a Simple Bird House
by Jane Lake
Use our free birdhouse plan to make a simple bird house from scraps of 1/2″ and 1/4″ wood; our example uses inexpensive plywood.
This is a nice gift for nature lovers, gardeners, or for someone special on Father's Day, and it makes a suitable house for wrens, sparrows, chickadees or other small nesting birds.
As you can from the picture at right, you can decorate the assembled bird house in many ways, from simple paint or stain to folk painting techniques finished with a non-toxic outdoor sealer.
Craft Supplies
hammer and 1/2″ finishing nails
waterproof glue
sandpaper
drill with 1-3/8″ hole saw and 1/4″ drill bit
1/2″ plywood in sizes shown in Figure 1, for two bottom sides and two inside supports
1/4″ plywood for two roof sections, each 7″ x 5″
1/4″ plywood for the front and back sections, each 5-7/8″ square
5″ length of dowel to finish the top, and 3″ length of dowel for bird perch
optional: paint or stain
Project Instructions: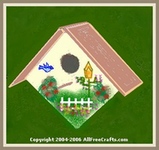 Pin
1. Before proceeding with each joint, start the nails, tapping into position, then apply waterproof glue along the joint edge.
2. Butt and glue the two bottom sides together as shown in Fig.1
3. Next, glue and nail the back section to the bottom sides.
4. Glue and nail the inside supports; see Fig. 1 for positioning on the back.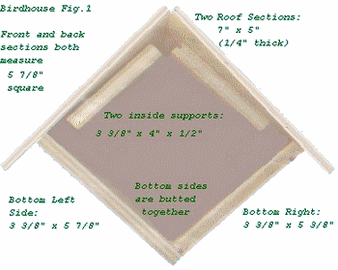 Pin
5. Using the 1 3/8 hole saw, drill a hole in the front section so that the top of the hole is 2″ down from a corner; see finished photo for detail. Use a 1/4″ bit to drill a hole for the dowel perch, 5/8″ below the bottom of the larger entrance hole. Sand the edges smooth, and sand all other inner parts of the bird house before nailing down the front.
6. Glue and nail the front to the bottom sides and the inside supports.
7. Position roof sections so that they meet, but do not butt at the top. Glue and nail the roof sections into place. The roof overhangs the sides, as shown.
8. Glue the 5″ dowel in the channel between the roof sections to complete this joint.
9. Sand all surfaces.
10. Lastly, glue the 3″ dowel into position as a perch.
Your bird house is now ready to stain or paint as desired.
Note: The size of hole that you make in your bird house and its height above ground will determine, in part, what kind of bird your bird house attracts. For help in choosing these important dimensions, see our article on Building the Right Bird House.