Last updated on October 6th, 2021 at 02:05 am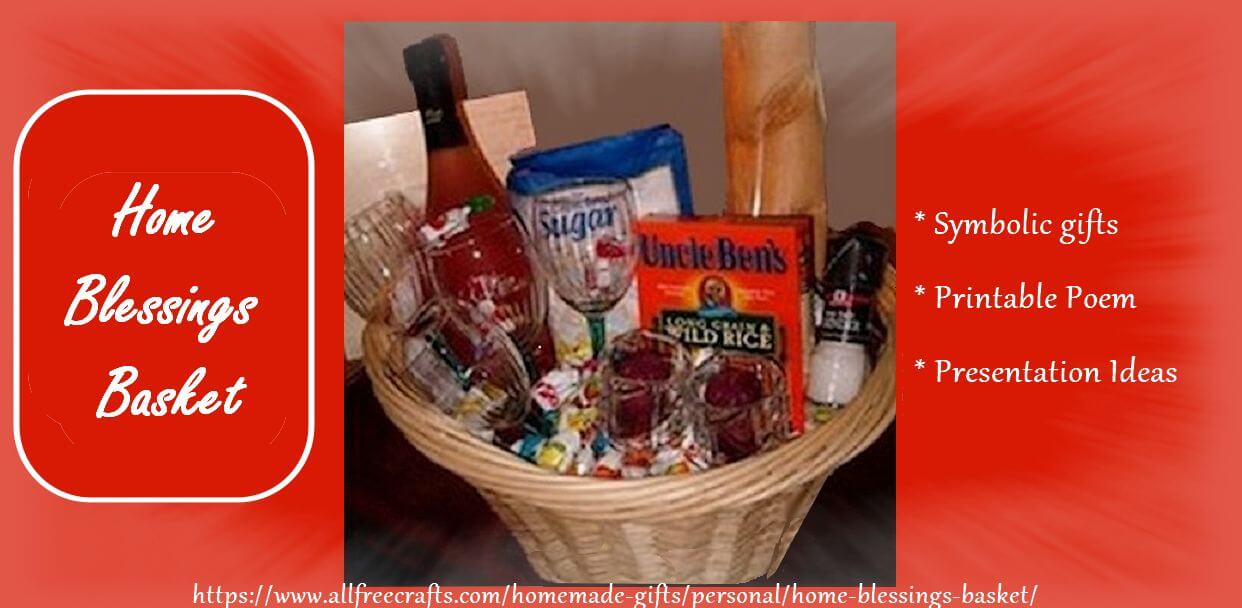 Here's a house-warming gift that is sure to be well-received by anyone moving into a new home. Since you assemble the basket yourself, you can dress up the basket in many different ways, depending on the occasion and the taste of the recipients.
The basket includes an assortment of useful products, each with their own symbolism of good wishes for new home owners. Just print one of our free three printable poem scrolls and include it with your basket as a personal expression of your hope for their happiness ahead in new surroundings.
Each of the following printable scrolls assumes that you will include in your basket:
Rice: That there may always be food in the home
Bread: That there may always be friends and family to share with
Salt: That there always be a little spice in your lives
Sugar: That a little sweetness touches even your worst of days
Candles: That you may always find your way back home
Wine: That there may always be reason to celebrate
Printable "New Home Blessings Basket" Poem Scrolls
Right click on your favorite choice of scroll to open in a new tab and print. Or right click and save the image to your computer before printing.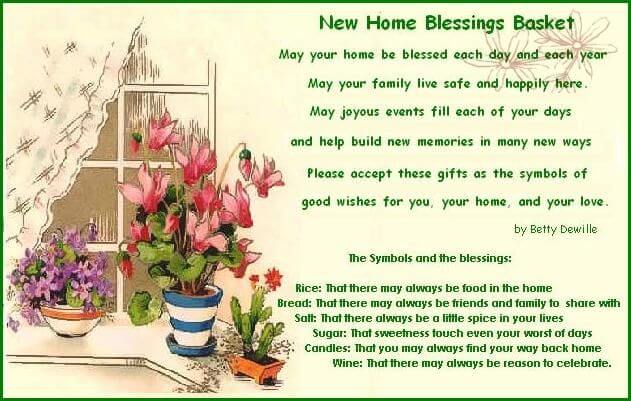 As well as the new home poem, each scroll also includes an explanation of the symbols represented by the main items in the basket.
Nice additions to your home blessings basket may include wine glasses, candle holders, scented candles, fresh baked bread or a bread mix, a cheese wheel, wrapped candies or mini pots of jam. The only required items, however, are those listed in the poem.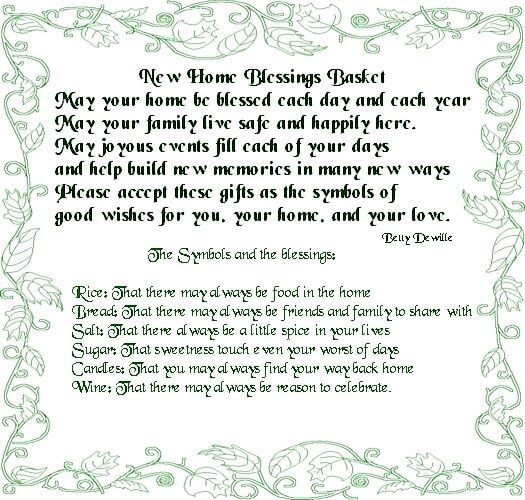 Presentation of Home Blessing Basket
Lay crumpled tissue on the bottom of the basket to support the items. Clear tape can help secure some of the pieces in place if needed. You could also line the basket with linen placemats or paper napkins and nestle the items on top.
For a finishing touch, roll your printed poem into a scroll, tie with a ribbon and set it atop the basket of goodies. Or wrap the basket in a generous cover of transparent or colored cellophane, secured at the top with a ribbon with the rolled scroll attached to the ribbon.
Even though you can gather the items for this basket at a well-stocked grocery store, the resulting Home Blessing Basket will be personal, homemade and heartfelt. To me, that is much more meaningful than a prepackaged bouquet of flowers or a generic basket of cheap mass-produced and overpriced commercial goods.
Please let me know in the comments below if you make a basket for a special friend or family member. It would warm my heart to know that someone, somewhere, is making a new beginning in their new home with blessings bestowed upon them by those who love them. Smile.