Last updated on March 5th, 2018 at 12:06 am
How to Make Spiced Tea Mix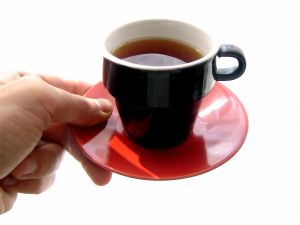 Pinby Jane Lake
Hot spiced tea mix is a wonderful gift in a jar – easy to make, delicious to drink, and well received by anyone who likes tea.
The spices in this recipe are cinnamon, cloves and ginger, and the infused flavors are pleasantly noticeable but not overpowering. As a special occasion drink, this mix works well at Thanksgiving or at Christmas, when the cold nip in the air makes a hot spiced drink very welcome.
This also makes a most appropriate homemade gift for someone who isn't feeling well – the warm orange spiced tea flavor is most comforting, especially when you're suffering from a cold or a fever and you need those extra fluids.
Spiced Tea Mix Ingredients: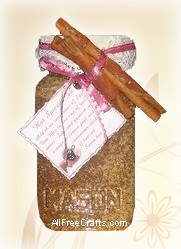 Pin
1½ cups of orange breakfast drink (like Tang)
¾ cup iced tea mix
1½ cups white sugar
2 teaspoons ground cinnamon
2 teaspoons ground cloves
1 teaspoon ground ginger
~ Makes about 4 cups ~
Jar Decoration:
1 quart (or 4 cup) glass jar
eyelet lace trim or something similar
¼ picot ribbon or raffia
2 or 3 short cinnamon sticks

__________

white glue or tacky glue
Printable Spiced Tea Mix label
Scissors
Paper punch
Spiced Tea Mix Recipe Instructions:
1. Stir all ingredients together in a mixing bowl. Pour into the quart jar (a funnel is useful for this but not absolutely necessary) and cap with a screw top lid, firmly screwed down.
2. Print the Spiced Tea Mix label shown and cut it out (with fancy edged craft scissors, if desired). Use a paper punch to put a hole in the top right hand corner.
3. Cut the lace trim to fit around the jar lid, adding an extra inch. Glue lace in place around the rim of the lid, overlapping the extra inch of lace at the back. Alternatively, you could cover the lid with a circle of lace or pretty fabric tied in place with the ribbon.
4. Tie ribbon around the lace on the jar lid, then tie the ribbon around the cinnamon sticks so that they appear at the front of the jar. Thread ribbon through the punched hole on the label and tie in place with a bow.