Last updated on February 4th, 2021 at 10:28 pm
You can make this curry cumin rice jar mix with raisins (which I really like) but it's also tasty without them for those (like my daughter) who believe raisins rightly belong only in cookies.
I developed this recipe as a gift in a jar, however, and even the naysayers in my home think the jar looks nicer with raisins inside. I used basmati rice in this jar mix, but you could substitute equal amounts of long grain white rice.
Yield: 4 servings
Curry Cumin Rice Jar Mix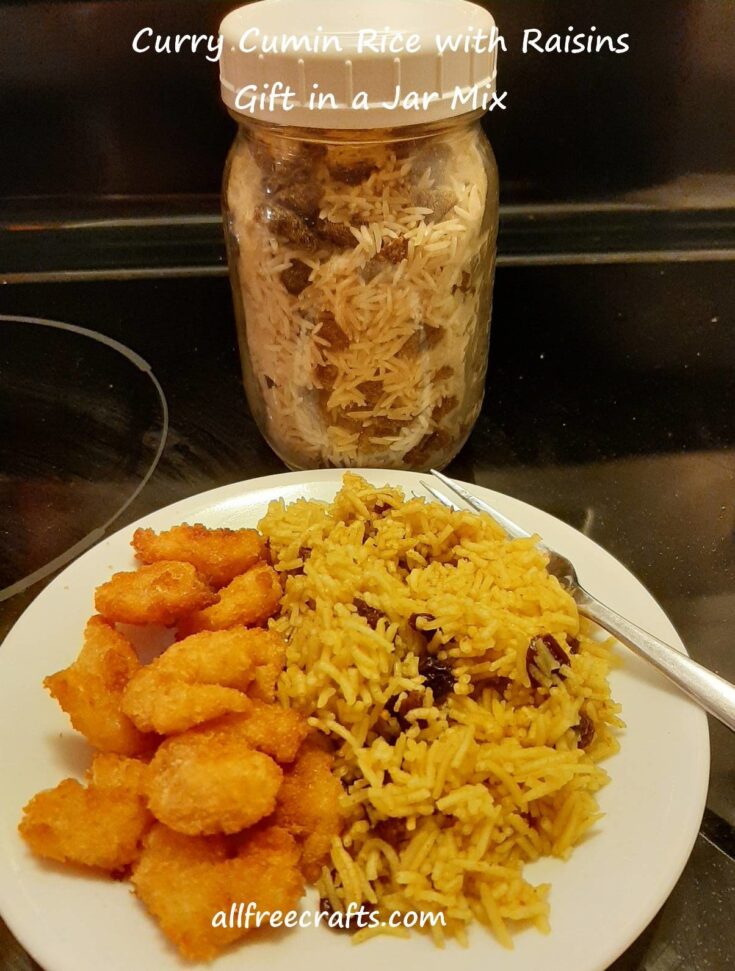 Curry Cumin Rice Mix in a Jar with raisins, instructions for a two cup gift in a jar, plus the recipe for cooking.
Ingredients
1½ cups basmati rice (or long grain rice)
½ cup raisins
3 tbsps dried onion flakes
4 tsp chicken bouillon powder
2 tsp curry powder
2 tsp cumin
Instructions
This recipe fills a two cup jar. You can layer it (and I'll offer how-to options for that later in this post) but it looks rather appealing with all the ingredients mixed together.
Measure the seasonings (chicken boullion powder and dried minced onion) and the spices (2 tsp each curry and cumin) into a mixing bowl and stir.
Add raisins to the seasonings in the mixing bowl and stir to combine. You'll find some of the seasonings cling to the raisins which looks fine seen through the jar.
Add the rice and stir everything together.
Pour the curry cumin rice mix into a two cup jar and hand tighten the jar lid.
Decorate the jar for gift giving then add a label identifying the contents and giving instructions on how to cook the curry cumin rice with raisins as shown below.
Notes
COOKING INSTRUCTIONS FOR CURRY CUMIN RICE AND RAISIN
Bring 3 cups of water to a boil in a medium saucepan. Stir in Curry Cumin Rice Jar Mix. Reduce heat to low and cover the saucepan. Simmer for bout 20 minutes or until rice is tender and has absorbed the water. Remove from heat and let sit, covered, for five minutes. Fork through the grains and, if desired, stir in 2 tablespoons of butter. Enjoy!
If you prefer to layer this jar mix for gift giving, try the instructions on our earlier recipe for Curried Rice and Raisins The trick to layering this is pressing down the layer of raisins and then topping up the jar with a little more rice. Just be aware that, since you are adding more rice, you may also need more water for cooking.
Nutrition Information:
Yield:
4
Serving Size:
1
Amount Per Serving:
Calories:

161
Total Fat:

1g
Saturated Fat:

0g
Trans Fat:

0g
Unsaturated Fat:

1g
Cholesterol:

0mg
Sodium:

483mg
Carbohydrates:

37g
Fiber:

2g
Sugar:

13g
Protein:

3g