Last updated on September 29th, 2015 at 02:19 am
Free filet pattern chart for the largest cat of them all: the tiger.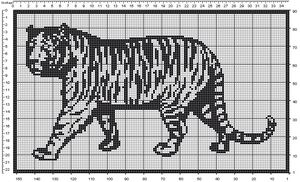 Pincontributed by Kathy Wilson
Click on the tiger image on this page to view the full-size tiger graph.
Print out the graph then follow the instructions to complete the filet crochet tiger pattern.
Materials List:
# 10 crochet thread
Size 10 steel crochet hook
Tapestry needle
printed Tiger Filet Graph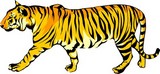 Did you know the magnificent tiger is the national animal of Bangladesh, India, Vietnam, Malaysia and South Korea?
[xyz-ihs snippet="AFCembed"]
Instructions:
CH 460
Row 1:
DC in 4th ch from hook, dc in each ch across (foundation row), ch 3, turn, (first dc now and throughout pattern.)
Row 2:
Dc in each dc across. Ch 3, turn.
Row 3:
Dc in next 3 dc, (closed block made), ch 2, skip next 2 dc, dc in next dc, (open block made), *ch 2, skip next 2 dc, dc in next dc, repeat from *, dc in last 4 dc.
Follow pattern until completed.