Last updated on February 11th, 2021 at 01:58 am

Originally published in The Spool Cotton Company Afghans Book No. 165, the Little Dorrit pattern took pride of place as the first afghan featured inside this 1941 booklet.
The finished afghan measures 50 x 72 inches and uses 201 motifs sewn together on the wrong side.
You may also wish to see the vintage straight-sided Flower Garden Afghan Pattern or motif-edge Colonial Charm Afghan pattern.
Free Little Dorrit Crochet Pattern
Yarns and Crochet Hook
You will need the modern equivalent of the yarns and crochet hook shown below to complete this afghan. A good quality worsted that is suggested as a blanket yarn should be fine as will a modern afghan weight.
Use washable yarn, in your choice of color combinations, and a crochet hook that enables you to complete one motif to the specified gauge.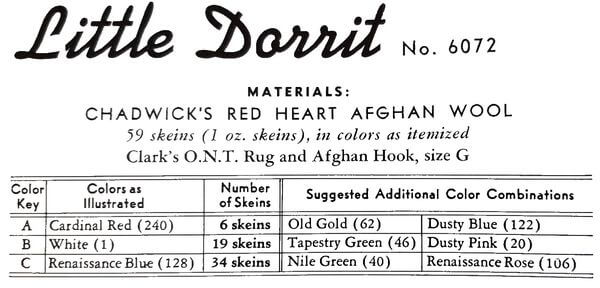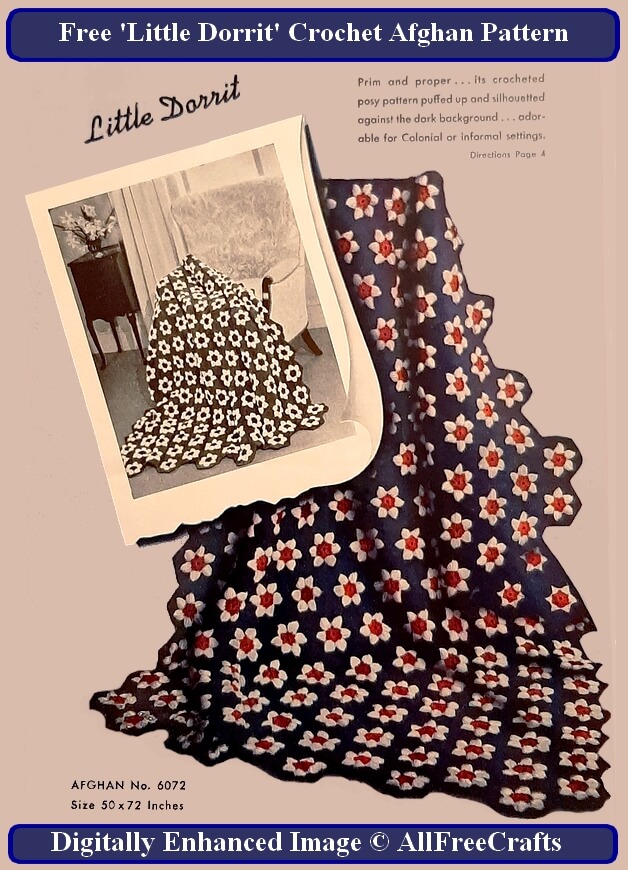 GAUGE: Motif measures about 4-1/4 inches from side to side across the center; about 4-3/4 inches from point to opposite point.
MOTIF…Starting at center, with A, ch 4. Join with sl st to form a ring.
1st rnd: Ch 3, yarn over hook, insert hook in ring and draw loop out to length of ch-3, yarn over hook and draw through all 3 loops on hook (a long half d c made); make 16 more long half d c in ring. Join with sl st to top of ch-3. Fasten off.
2nd rnd: Attach B and working through the 2 back loops only, make 2 s c in each st around, thus forming a ridge on right side (36 s c in rnd). Insert hook in 1 sc made and draw through a loop of C, thus joining. Do not fasten off B.
3rd rnd: Working over B with C, ch 4, 3 tr in same place as base of ch, *let C hang (do not work over it), and with B, yarn over hook twice and work tr in same place C tr's and in each of next 6 sts, holding back on hook the last loop of each tr, drop B, and with C, yarn over hook and draw through all loops on hook (a cluster made). Working over B, from * around, ending with 3 tr in same place as last tr of cluster, sl st in top of ch-4. Fasten off B.
4th rnd: Ch 3, d c in same place as sl st, ch 2, 2 d c in same place, * d c in next 7 sts, in next st make 2 d c, ch 2 and 2 d c. Repeat from * around. Join with sl st to top of ch-3. Fasten off.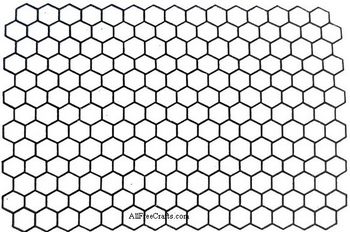 This completes one Motif. Make 201 motifs in all and sew together as in the diagram with neat over-and-over sts on wrong side, picking up only the back loop of each stitch.
Charles Dicken's Little Dorrit
If the name Little Dorrit sounds familiar, it may be because that was the title of the Charles Dickens' serial novel, "Little Dorrit", published between 1855 and 1857. You can read more on Charles Dickens Page – Little Dorrit or read the overview on Wikipedia Little Dorrit – Poverty and Riches.