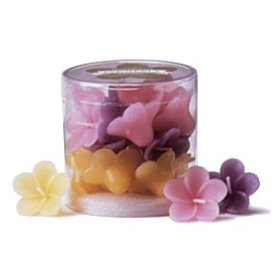 PinHow to Make Unique Wedding Candle Favors
by Anna Hart
When your grandparents married, the idea of creating unique wedding candle favors as a project may have crossed the bride's mind, but weddings were simpler, then. Wedding favors were often nothing more than sugar-coated almond candies. The candies were traditional, and many brides went with tradition.
Today's bride has a wealth of ideas from which to choose – and yet, because the same ideas are so readily available via the Internet, many brides want something different. They want wedding favors that aren't like everyone else's. Some want to get together with friends and spend a day crafting wedding favors.
That's where creating unique wedding candle favors as a project comes in. Picture yourself with your friends, tables piled high with lovely supplies. You load the CD player as everyone gathers around the table, and then settle down for an enjoyable day of chatting, listening to music, and creating your own unique wedding candle favors.
British Wedding Candle Favors
A nostalgic wedding candle favor with a "tea for two" theme can be created using "British" teacups with saucers. Search online for mini teacups and saucers. Several toy teacup and saucer sets are available. Choose antique white or flowered teacups with saucers. Place a tea candle in each cup, add a bow and card to the handle, and your wedding candle favor is ready. Centerpieces for your tables could be arranged in teapots.
Dutch Favors
Something old, something blue … What better for unique wedding favors than Delft "Blue" with an "old" theme like a clog? An online search will turn up ceramic mini Dutch shoes with windmill or other design painted on them in Delft Blue. Purchase pairs to cut costs, and separate the shoes for your project.
Place a penny in the bottom of each shoe. Then insert a small, white tea candle. Use thin, sheer ribbon to tie on a printed tag with the traditional rhyme: "Something old, something new; Something borrowed, something blue; And a penny in her shoe." Add a brief explanation: "The theme is old, the favor is new; I borrowed the rhyme, the shoe is blue. Look for a penny in the shoe."
Eggs-actly Affordable Wedding Candle Favors
The bride who wants to inject humor can create unique favors with ceramic egg cups. Oriental Trading Company online offers "paint-your-own" ceramic egg cups; you'll also find them in most craft stores. The white egg cups can be painted to match your wedding color scheme, in flowers or other motif. Fill with wax and a wick, or insert a tea candle. Tie a bow around the base of the egg cup, attaching a place card or small thank you.
Oriental Wedding Candle Favors
For an oriental wedding theme, the trick is to think of oriental objects that can hold a candle. The most obvious, of course, is an oriental tea cup – tall and narrow, with handle and lid. These can be expensive, but low cost cups are also available, especially if you work with a wholesale company. Choose a pretty pattern, insert a candle, and put the lid on it. Tie your place card to the handle with a pretty ribbon.
Spring Wedding Favors
A spring idea might begin with tulip bouquet candles, available online from Lillian Vernon. These come in sets of 3: pink, yellow, and lilac bouquets. Use white and silver ribbon to tie a place card to each tulip bouquet and you're done. For a whimsical touch, a note about "two lips" could be added to the card. These wedding candle favors are perfect for a spring wedding, especially with tulip centerpieces.
Tropical Wedding Candle Favors
A favorite tropical flower is the hibiscus, and floating hibiscus blossoms can be a quick way of creating unique wedding candle favors as a project for bride and bridesmaids. Begin with clear plastic dessert dishes 3″ to 4″ in diameter. Choose dishes with a short stem. Tie a ribbon around the stem of the dish, looping it through your place card. Fill each dish 1/2 full with water, and place a hibiscus floating candle in each. These types of candles are available online.
Seashore Favors
You can create seaside wedding favors using materials at hand. Order white, 13-hour votive candles from a bulk pillar candle supplier. Purchase small plastic coasters and pastel ribbon to match your wedding color scheme. Glue a candle in the center of each coaster. Glue a layer of sand around it. Make the sand come up over the bottom of the candle in an uneven pattern. Glue tiny seashells to the candles, and then tie with a bow, attaching your place card with the ribbon.
Involve Everyone
Creating unique wedding candle favors is a project in which you can involve nearly everyone in the family. You can create your favors all in one day, or do a few at a time. You may not use one of these ideas exactly as is, but perhaps the ideas given will spark your imagination.
The important thing is that you like the favors you create, and that they reflect your personality and interests. This is your day. Make it uniquely you in every way.
Author Anna Hart invites you to read more of her articles about wedding favors at Secrets of Wedding Favors.