Last updated on December 26th, 2022 at 01:58 pm
These traditional two needle mittens work up quickly and suit everyone from child to adult. Use up your yarn stash and knit a pair of mittens in a different color for everyone in the family.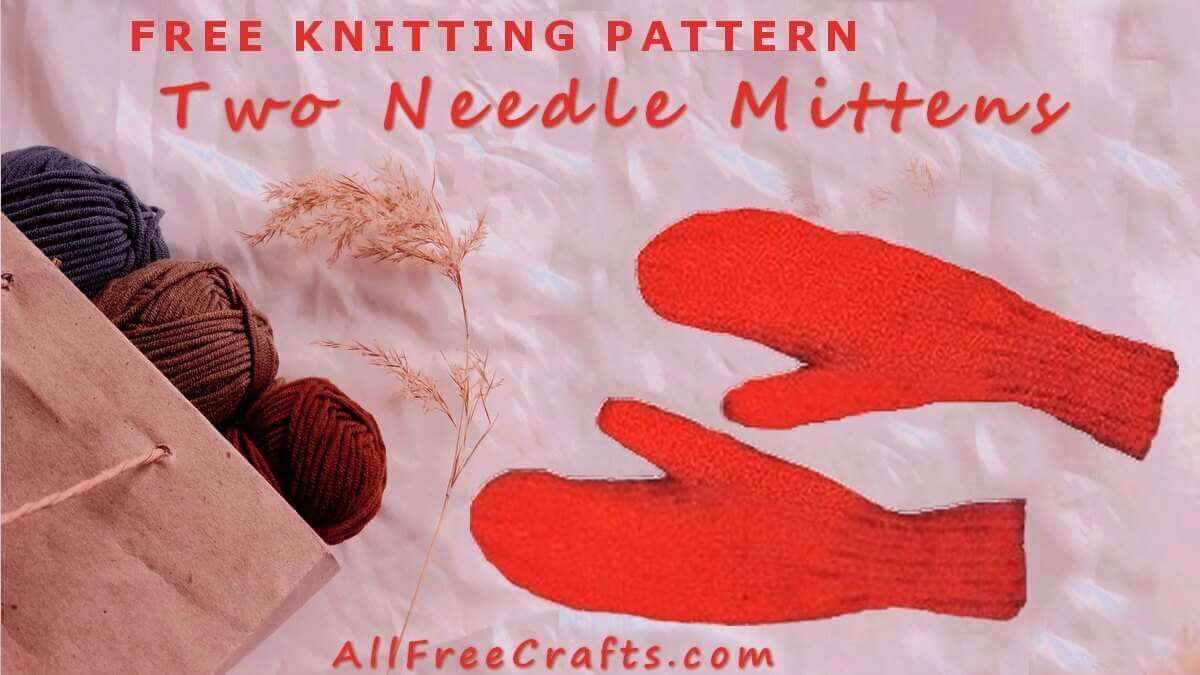 Basic Two Needle Mitten Pattern
Sizes: small child, medium child, large child, adult
Materials:
#5 and #7 needles
200 yards of worsted weight yarn
1 stitch holder
2 stitch markers
tapestry needle
Gauge: 5 sts = 1″ on #7 needles
Two Needle Mittens
Knitting Pattern Instructions:
Cuff: With smaller needles, loosely cast on 24(28-32-36)sts. Work *K1, P1,* ribbing until piece measures 2 1/2 (3 1/2, 4, 4 1/2)". Change to larger needle.
Hand: Row 1 (right side): K2, inc in next st, K to last 3 sts inc in next st, K2. Row 2 Purl. Continue working in SS until piece measures 1″ (1 1/4, 1 1/2, 2″) from end of ribbing, ending with a P row. For the last 3 sizes only Work 2 more rows. (SS)
Thumb Gusset: Row 1: K12 (14-16-18), place marker on needle; inc in each of next 2 sts, place marker on needle: K12 (14-16-18) sts. Row 2: and all even rows Purl. Row 3: K to marker, sl marker, inc in next st; K to st before next marker, inc in next st, sl marker, K to end. Repeat Rows 2 and 3 until there are 8 (10-12-14) sts between the markers; end by working Row 2.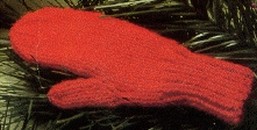 Divide for Thumb: K12 (14-16-18), drop marker; K8 (10-12-14)sts for thumb, and then place thumb sts on holder; K 12 (14-16-18) Work even in SS until work measures 4″ (5 1/2 -6-7″) from start of Hand, ending by working a purl row.
Top Shaping: Row 1: *K2, K2tog; rep from* across. Row 2: Purl. Row 3: *K1, K2tog, rep from * Row 4: Purl. Row 5: K2tog across; break yarn, leaving 18″ end. Thread yarn into tapestry needle, run needle through remaining sts. Slip sts off needle, pull yarn up tightly and fasten securely. leave yarn for sewing.
Thumb: Sl sts from holder to needle, purl one row. Work even in SS until thumb measures 1 1/4 ( 1 3/4-2-2 1/4″) ending with a purl row. Next Row: K2 tog, rep across row cut yarn leaving 12″ end finished the same as above. Fold mitten and sew seams.
Editor's Notes:

These are just like the mittens that I remember my mother knitting for me as a child. Although she also made striped mittens on double pointed needles as well.
When I was very young, the two mittens were often attached by a long chain of yarn that allowed the mittens to be fed through the arms of my winter coat so that one, or the other, wouldn't get lost if I took one off.
Does anyone else remember this? I'd love to hear your comments and memories!

If I was lucky, I'd get to choose what color yarn she used, although sometimes it wasn't up for debate as my mum often unraveled old sweaters or other knits to reuse the yarn.
About the Contributor: Spinayarn.com is a family-owned yarn shop located in Edmonds WA, U.S.A.