Free Vintage Knitting Patterns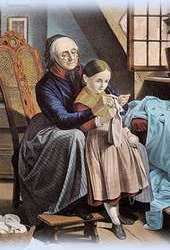 A curated collection of beautiful vintage knitting patterns for clothes, toys and items for your home. All free, of course, and ready for your needles.
These patterns generally include an explanation of abbreviations as well as links to the original pattern books if available.
Although many patterns here are public-domain, the coding, images and text on this site are copyrighted and cannot be reproduced. You may, however, use most free patterns to make items for personal use or for sale, unless noted otherwise on the pattern page.