Last updated on March 6th, 2016 at 12:32 am
How to Paint a Welcome Mat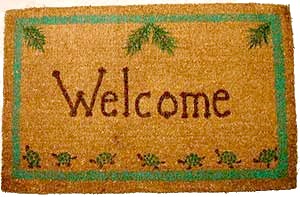 Pin
Decorate and personalize a grass, reed or coconut door mat with a homemade welcome message using this easy painting technique.
What You Will Need:
Door mat
Acrylic Paints
Spray Varnish
Paint brush
Stencil or rubber stamp (optional)
Masking or Painter's tape
[xyz-ihs snippet="AFCembed"]
Project Instructions:
Vacuum your mat to remove any loose grass and dust. For this mat, I placed everything by eye, rather than measuring.
To create the border, secure a strip of masking tape around the entire perimeter of the mat. I used the width of the masking tape as my guide and placed it flush with the outline of the mat. I then placed another strip of masking tape, just inside of the first outline of masking tape. I judged the width by eye
only. Press the tape to secure as well as possible.
The grass rugs will not hold your tape securely, but they will hold it well enough for you to paint. Paint your border (between the two strips of masking tape) using a paint brush or a mini roller. I used a roller and found it much easier than a brush. You will need a fair amount of paint, as the mat will absorb quite a bit. Allow the paint to dry completely before continuing. The paint will dry quite quickly. Remove the masking tape.
Though the photo is not very clear, there are turtles walking along the bottom of my mat. I used an inexpensive chunky stamp for this. These mats are difficult to stamp on and you will need to fill in the stamped areas with a little more paint. Apply paint to your stamp (be generous) and press very firmly on the mat. Your impression will be weak, but you will have a clear outline to work with. Using your paintbrush, paint in any areas that did not transfer. Choose a simple stamp to make this task easier.
The branches at the top of the mat, were drawn free hand, but you could also use a stamp for this. The homemade "Welcome" message was painted free hand. To do this and to keep the letters relatively straight, place a strip of masking tape along your mat, where you want the bottom of the lettering to be and another piece of tape where you want the top of the lettering to be. This will give you a guide to work with. You will need a lot of paint to create a strong greeting.
Begin with a very light coat of paint and write your letters. You can also write your letters with chalk first if you are unsure and then paint directly over the chalk. You may need to repaint the lettering several times before you have strong welcome painted. Allow all of the paint to dry completely.
To preserve your paint, finish with a spray coat of varnish over the entire mat. These mats will eventually fade, as do all of them, but if you re-spray with varnish, before they fade too severely, they will last for quite some time. It is not absolutely necessary to seal your mat with varnish, but the paint will wear very quickly if not sealed.
Copyright © 1999-2014 Susan Spatone All rights reserved. Published with permission from CraftAtHome.com