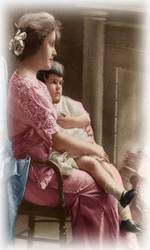 Free Vintage Crochet Patterns
by Jane Lake
Our vintage crochet section includes a variety of patterns from the past. Where possible, the patterns include an explanation of abbreviations, as antique patterns written in another era may contain terms that are far different from modern patterns.
You'll also find references and links to the original pattern books, whenever these are available for free as PDF or ebook downloads. Of these, the Antique Pattern Library is a respected resource, with a growing library of scanned public-domain antique needlework.
Although many patterns here are public-domain, the coding, images and text on this site are copyrighted and cannot be reproduced elsewhere. You may, however, use these free patterns to make items for personal use or for sale.
Free crochet patterns from the past, including doilies, shawls and basket work.

Bobble Bag
Crochet a purse or handbag with bobble stitch in your choice of yarn weights.

Border Rose Blouse
Handsome border rose blouse pattern, published in 1920, matches the border rose bag, at right.

Border Rose Bag
Classic filet crochet bag featuring a border rose style; an accessory for the border rose blouse.