Last updated on September 17th, 2015 at 01:42 am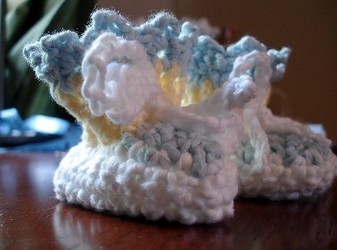 PinIs there anything cuter than a pair of baby booties? Well, besides the baby. This pair is made especially for a newborn baby.
Copyright © 2005-2014 Tamara Bower-Snow
Materials
Bernat Cotton Tots Yarn in colors of your choice
in these directions the colors are as follows
Color A-Yellow
Color B-White
Color C-Blue
G hook.
Directions: [xyz-ihs snippet="AFCembed"]
(this project is worked in rounds)
With Color A
-Ch 17, sl st in first chain to form ring
-Ch 3 (counts as 1st DC) DC in each chain around 15 DCs total including the ch 3, sl st in top of ch 3
-repeat
-Finish off
Instep:
With Color C
-join yarn with SC between any two dcs
-sc in next 4 sp (5 SCs total)
-Ch1 turn
-5 SC
-Ch1 turn
-SC2tog, sc across (3 SCs)
-Ch1 turn
-SC3tog
-Finish off
With Color B
-join with sc on color A section
Round 1-sc around color A and C sections
repeat 2 rounds
Round 4-*7 sc, SC2tog twice* repeat from * around
Round 5-*5 sc, SC2tog once* repeat from * around
Round 6-*3 sc, SC2tog once* repeat from * around
-Finish off leaving a long tail for sewing up seam.
-sew up seam
With Color C
-SC in between any two DCs on bottom of Color A section.
-SC in between each DC until all the way round…17 SCs, sl st in first sc.
-Ch 1 (counts as first sc) *sc in first 2 SCs, ch 3 to form picot and slip stitch in same space* repeat from * around, sl sp in first sc
-Finish off.
To make ties:
Using Color B
CH 75, finish off
weave chain in the color A section around to form tie.
Weave in all ends
Pattern designed by Tamara Bower-Snow, who owns Roxycraft.com where you will find more free crochet patterns plus original exclusive patterns to purchase.